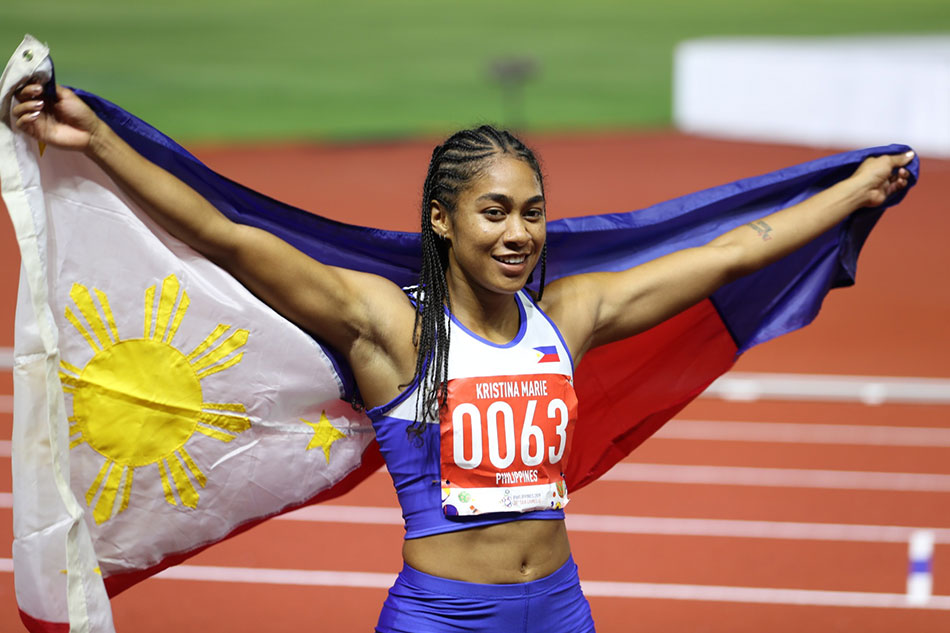 Filipino-American sprinter Kristina Knott eclipsed Lydia de Vega's national record in the women's 100-meter dash at the 2020 Drake Blue Oval Showcase in Iowa on Sunday.
Knott erased the three-decade-old record set by Lydia de Vega (11.28) in the 1987 Southeast Asian Games by the slimmest of margins: one hundredth of a second. The 24-year-old Knott clocked in at 11.27 seconds, finishing behind Kayla White, who finished at 11.18 seconds. Tianna Bartoletta, meanwhile, ended up at 11.44 ticks.
"It's truly a great achievement and validates all the time, effort and resources we have devoted to this mission," Philippine Athletics Track and Field Association (PATAFA) chief Philip Ella Juico said.
Juico said Knott's finish is also the best in the Asian level thus far. He added that the legal wind assistance Knott had was at 1.5m/second, which makes her finish noteworthy amid the pandemic.
loading...
Coach Rohsaan Griffin relayed to Juico earlier Sunday that Knott had not raced enough, but underwent a hybrid skills and strengths conditioning program.
Strength and conditioning coach Carlo Buzzicelli, along with Griffin trained the sprinter online, and will be augmented by in-person sessions from September until December.
Knott's time in the 100m event was her second national record. She had first etched her name in the Philippine record books by claiming the SEA Games and Philippine record in the 200m dash.
She broke Supavadee Khawpeag's tournament best of 23.30 seconds in 2001, by finishing at 23.01, just 0.21 seconds short of an Olympic berth.
Knott makes a very strong case to qualify for the Olympics, as she is well within reach of the qualification times to Tokyo. According to Juico, she is 0.09 seconds away in the 100m, and 0.12 ticks in the 200m.
"I am hopeful that with almost a year from Tokyo, the increasing number of competitions, the well coordinated approach of Buzzichelli and Griffin, the single-minded determination of Kristina and the forthcoming additional support of the PSC and PATAFA's willingness to invest in all its athletes and coaches," mentioned Juico.
philippine news today philippine news gma philippine daily inquirer breaking news today philippine news headlines latest news philippines philippine news headlines today abs cbn news today philippine star abs-cbn news today abs cbn news live abs cbn news tv patrol abs cbn entertainment philippine news today manila news philippine news gma abscbn news twitter gma news weather balita ngayon sa gma news tagalog gma news and public affairs 24 oras news gma news entertainment gma news tv shows gma news walang pasok gma news tagalog version philippine news today philippine news headlines philippine news gma philippine news headlines today philippine news tagalog latest news philippines philippine daily inquirer breaking news today philippine newspapers