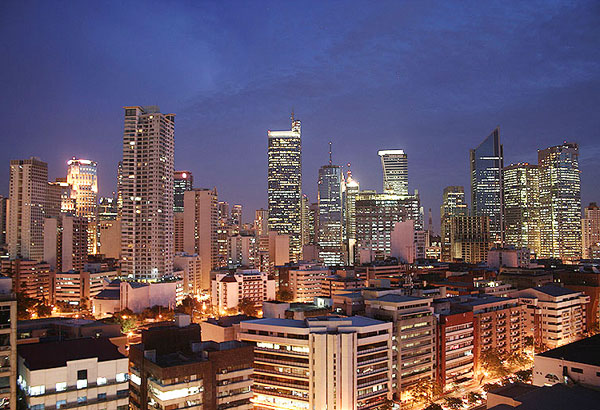 Regions, provinces and cities in Luzon are the richest while the poorest local government units (LGUs) are from Mindanao, according to the latest 2014 Annual Financial Report of the Commission on Audit (COA).

The Autonomous Region in Muslim Mindanao (ARMM) remains at the bottom of the country's wealth ladder, while the National Capital Region (NCR) tops the list, followed by Region 7 with Cebu as the province with the highest in assets and total equity.
Equity is the difference between the amount of assets and liabilities of LGUs. It is a financial resource that may be saved, or used for local projects such as infrastructures, investments and operating expenses.
The NCR has the biggest equity at P137.649 billion, followed by Region 7 (Central Visayas) with P61.731 billion and Region 4A (Calabarzon) with P60.509 billion.
Meanwhile, the ARMM is at the bottom of the list with only P4.434 billion equity.
Here is the complete list of the regions with their total equity:
- NCR: P137.649 billion
- Region 7: P61.731 billion
- Region 4A: P60.509 billion
- Region 6: P31.026 billion
- Region 3: P30.278 billion
- Region 10: P22.274 billion
- Region 9: P19.369 billion
- Region 1: P17.466 billion
- Region 8: P16.482 billion
- Region 5: P16.182 billion
- Region 2: P14.249 billion
- Region 13: P12.876 billion
- Region 12: P12.769 billion
- Region 11: P12.15 billion
- Region 4B: P9.479 billion
- CAR: P6.455 billion
- ARMM: P4.434 billion
Meanwhile, six cities in the NCR had the highest equity in 2014, led by Makati City at P34.461 billion; Quezon City, P31.917 billion; Pasig City, P20.036 billion; Manila City, P13.131 billion; Caloocan City, P6.894 billion; and Marikina City, P4.887 billion.
Calamba City, where many factories are located, is also in the top 10 with P4.69 billion equity.
The only city in the Visayas on the top 10 list is Cebu City with P7.855 billion equity.
Two cities in Mindanao made it to the top 10: Zamboanga City with P10.464 billion, and Cagayan de Oro City with P4.67 billion.
- Makati City: P34.461 billion
- Quezon City: P31.917 billion
- Pasig City: P20.036 billion
- Manila City: P13.131 billion
- Zamboanga City: P10.464 billion
- Cebu City: P7.855 billion
- Caloocan City: P6.894 billion
- Marikina City: P4.887 billion
- Calamba City: P4.690 billion
- Cagayan de Oro City: P4.670 billion
- Balanga City: P384 million
- Calapan City: P374 million
- Mabalacat City: P366 million
- Catbalogan City: P354 million
- Silay City: P351 million
- Ilagan City: P322 million
- El Salvador City: P309 million
- Iriga City: P301 million
- Lamitan City: P190 million
- Malolos City: P180 million



RICH AND POOR PROVINCES
Among the provinces, Cebu is highest in terms of financial capability with P28.181 billion equity. Five provinces near NCR made it to the top 10 provinces with the highest equity: Rizal, P6.715 billion; Cavite, P4.918 billion; Laguna, P4.474 billion; Batangas, P4.381 billion; and Pampanga, P3.883 billion.

Five Mindanao provinces, meanwhile, have the least equity. Dinagat Islands in Region 13 came last on the list with only P281.292 million. Batanes, an island in the northern part of Luzon, is second to the last with P285.229 million equity. Four Luzon provinces and a Visayan province are also part of the bottom 10.
- Region 7, Cebu: P28.181 billion
- Region 4 Rizal: P6.715 billion
- Region 4A, Cavite: P4.918 billion
- Region 6, Negros Occidental: P4.741 billion
- Region 4, Laguna: P4.474 billion
- Region 4, Batangas: P4.381 billion
- Region 1, Pangasinan: P4.225 billion
- Region 7, Negros Oriental: P3.951 billion
- Region 2, Isabela: P3.909 billion
- Region 3, Pampanga: P3.883 billion



Lowest Equity:
- Region 8, Biliran: P459.870 million
- Region 5, Sorsogon: P450.999 million
- CAR, Mountain Province: P446.644 million
- Region 4B, Romblon: P435.060 million
- Region 10, Camiguin: P426.851 million
- Region 11, Davao Oriental: P397.771 million
- ARMM, Sulu: P298.580 million
- ARMM, Maguindanao: P296.914 million
- Region 2, Batanes: P285.229 million
- Region 13, Dinagat Islands: P281.292 million
University of the Philippines (UP) Center for Public Integrity Executive Director Prof. Edna Co explained that the number and type of investments affect the equity of an area.
She said infrastructures, transportation, communication system, and educational attainment of human resources play a big part in attracting investors.
Co said Cebu, for example, has a big number of investors because it has paved roads, efficient information technology, and high number of employable population.
Metro Cebu is considered the largest and most progressive urban center in the country outside NCR. Aside from its agricultural industry, it houses big foreign and local companies in the Mactan Economic Processing Zone and in its industrial park.

"It probably has the biggest investment that business puts into it and why? Because of the infrastructures that are available in Cebu for example, or probably because of the high level of IT [Information Technology] communication that is available to let business grow, and there are sufficient qualified human resources which are key to making industries, business grow in a particular area," said Co.
Co also pointed out the importance of accessible and quality education in economic progress.
"Cebu is a metropolitan, is an urban area. I think because of the availability and proximity of schools, marami dito ang human resources na sinasabi natin na nakapagaral, at ito ang mga tao o population na importante para ma-employ, para magkaroon ng jobs. So, I would say that is a factor for Cebu. Metro Manila also has big [number of] schools," explained Co.
The disparity between the richest and poorest regions indicates the areas which receive the least attention from the government, added Co.

Even though ARMM provinces receive annual Internal Revenue Allotment (IRA) for general administration and support for its projects, the region still has the highest poverty incidence among families since 2006.
The latest study of the National Anti-Poverty Commission (NAPC) in 2012 revealed that 48.7 percent of families in the ARMM are poor.
Meanwhile, the poorest province with 67.3 percent poverty incidence, Lanao del Sur, received P1.4 billion IRA in 2014, and P1.2 billion in 2013.
Based on the NAPC poverty threshold, a family with an income of less than P10,534 a month is considered poor.
The National Commission on Muslim Filipinos (NCMF) earlier explained that the high poverty incidence in Mindanao was due to limited employment opportunities.

"Ang ahensya lang na meron sa Mindanao ay ahensya ng gobyerno. That actually accommodates some employment in Mindanao. Pangalawa ay small and medium enterprises," said Aleem Siddiqui Guiapal, director of the Bureau of Muslim Economic Affairs-NCMF.
Co pointed out that an area becomes more vulnerable to higher poverty incidence and threats to peace and order as the gap in local government's economic status widens.
"Kapag lumaki ang gap between the rich and the poor, lalong vulnerable ang mga tao na magkaroon ng conflict, dissatisfaction, giyera. At ito 'yung ground for recruiting the most dissatisfied sector of the population. So probably, rebellion will rise, terrorism, this will be inclined to support terrorist acts, more criminal acts, therefore, more problems on peace, security and order in the community," she said.
National agencies and local government units must work in improving the necessary improvements on infrastructures, communication and education system in areas with the least equity.

"Itong mga lugar na ito ay may kakulangan sa atensyon ng gobyerno upang ito ay pagbuhusan ng mga investment at budget para paunlarin ang infrastructures, road system, communication system. Kasi kung wala kang ganitong klaseng infrastructures... mahirap iengganyo ang sinuman na gustong mag-stay sa lugar, o kaya mahirap maengganyo ang negosyo na doon mag-invest dahil malaki ang kakaining capital para maging posible ang isang negosyo," Co explained.
With the absence of big foreign and local investors, NCMF is working to improve the small and medium enterprise (SME) sector in Mindanao.
President Benigno Aquino III highlighted the importance of SMEs in economic development during the Asia-Pacific Economic Cooperation (APEC) Business Leaders Meeting on November 17.