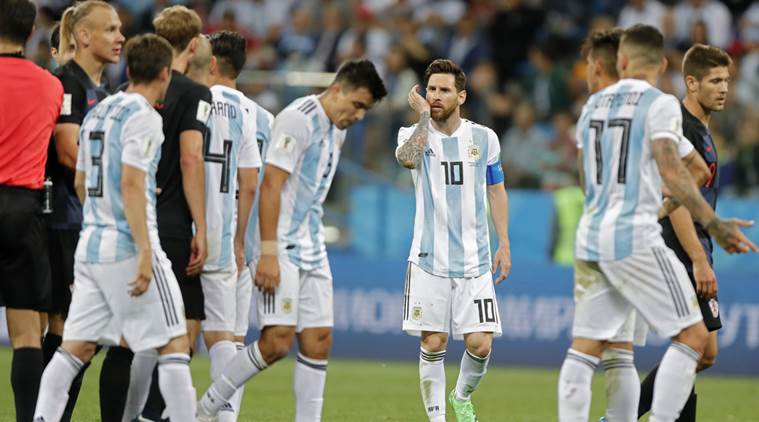 As the business end of the 2018 FIFA World Cup draws to a close, several teams are left to scrap for survival or for the top spot on their group with a spot in the Round of 16 up for grabs. While there are many permutations and scenarios that will decide the fate of countless World Cup dreams, there is one team that remains in focus because of the fact that a legend of the game's World Cup career could be over in less than a day.



ALSO READ: FIFA World Cup 2018: It's now or never for Argentina
That man is Lionel Messi, whose inability to win a major trophy with Argentina has dogged his record-breaking career. Argentina currently sit at fourth place in Group D and face second-placed Nigeria in their last group match today.

ALSO READ: Diego Maradona confident of Argentina's World Cup revival
From Group D, with six points, Croatia sit on top and only need one point against Iceland to win the group. Nigeria (four points) can top the group if they beat Argentina and Croatia lose to Ireland, as well as if Nigeria's goal difference improves ahead of Croatia.
ALSO READ: FIFA 2018 Points Table
Messi's Argentina will be eliminated with a defeat or a tie. Here's what they need to do to:
- To qualify for the Round of 16, Argentina need to beat Nigeria and hope that Iceland lose to Croatia.

- Should Iceland beat Croatia, Argentina will need to beat Nigeria by two more goals than Iceland win their match.
TOP

COMMENT
All the best to Messi and his team.
- If Argentina beat Nigeria and Iceland beat Croatia, both teams will be level on points. In this scenario, the two teams' respective disciplinary records will come into play, and this is where Jorge Sampaoli's men are in the red, because they have three yellow cards whereas Iceland have none.
Messi's Russian campaign threatens to be remembered for the tame penalty lick that cost Argentina victory against Iceland and the lacklustre performance that followed against Croatia. Argentina's chances hang by a thread and unless Messi's own performances improve, he will likely retire from the international stage without being a world champion given that he will be 35 when the next World Cup comes around in four years.