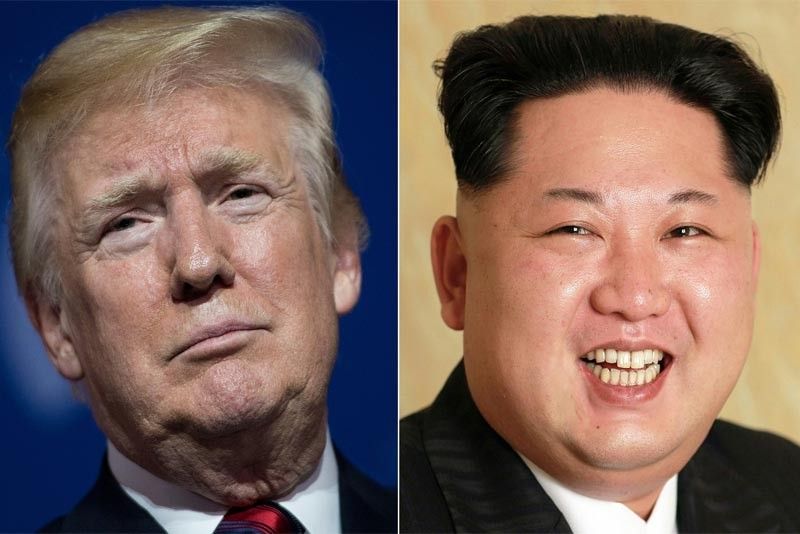 One day after abruptly pulling the plug on a high-stakes summit with North Korea, US President Donald Trump said Friday the meeting with Kim Jong Un could go ahead after all -- and would "likely" happen on the originally scheduled date of June 12.
The summit would be an unprecedented meeting between a sitting US president and a North Korean leader, which Washington hopes will result in full denuclearization of the reclusive state.
"We're going to see what happens," Trump told reporters at the White House, after welcoming Pyongyang's latest statement on the talks as "very good news."
Later Friday, Trump said in a tweet that "very productive talks" were ongoing with North Korea about reinstating the summit.
"If it does happen, will likely remain in Singapore on the same date, June 12th," he wrote, adding the meeting could be extended further if necessary.
On Thursday, Trump cancelled the summit that was due to take place in Singapore, blaming "tremendous anger and open hostility" from Pyongyang in recent days.
But North Korea responded Friday by saying it was willing to talk to the United States "at any time" -- a reaction Trump welcomed as "warm and productive."
"We're talking to them now," Trump said of the North Koreans. "They very much want to do it. We'd like to do it."
US Defense Secretary Jim Mattis said there was "possibly some good news" on the summit, while White House Press Secretary Sarah Sanders told reporters: "If the meeting takes place on June 12, we will be ready."
Secretary of State Mike Pompeo spoke by phone with South Korean Foreign Minister Kang Kyung-wha, and the two agreed to remain "closely coordinated" in efforts to create conditions for dialogue with North Korea.
They "agreed that must continue until North Korea embraces denuclearization," according to a US readout of the call.
Trump's cancellation of the summit had blindsided treaty ally South Korea, which had brokered the remarkable detente between Washington and Pyongyang, with President Moon Jae-in calling the move "shocking and very regrettable."
'Twists and turns'
State Department spokeswoman Heather Nauert cast the fast-moving developments as simply "twists and turns" in the process.
"We never expected it to be easy," Nauert told reporters.
But the whiplash from the White House was unusual even for the chaos-loving president. In March, apparently acting on impulse, Trump agreed to the talks with Kim after only limited input from aides.
In a letter to Kim, Trump blamed Kim's regime for his decision to call off the summit, and warned North Korea against committing any "foolish or reckless acts" while also highlighting America's "massive and powerful" nuclear capabilities.
First Vice Foreign Minister Kim Kye Gwan called Trump's decision "unexpected" and "regrettable" but sounded a conciliatory tone, saying officials were willing "to sit face-to-face at any time."
Just before Trump announced the cancellation of the meeting, North Korea declared it had "completely" dismantled its nuclear test site in the country's far northeast, in a carefully choreographed goodwill gesture.
'Show goodwill'
Japanese Prime Minister Shinzo Abe said he respected and supported the US president's move to cancel the summit while China, Pyongyang's sole major ally, urged the two foes to "show goodwill."
Russia's President Vladimir Putin held out hope the talks would eventually take place.
Politically, Trump had invested heavily in the success of the planned summit.
As the date drew nearer, however, a gulf in expectations between the two sides became apparent.
Before Trump's announcement, Pyongyang had hardened its rhetoric, calling comments by Vice President Mike Pence "ignorant and stupid."
Washington has made it clear it wants to see the "complete, verifiable and irreversible denuclearization" of the North.
Pyongyang has vowed it will never give up its nuclear deterrent until it feels safe from what it terms US aggression.
Libyan model
The White House was unhappy about what it considered to be a "trail of broken promises" by North Korea -- including failure to show up for summit preparatory talks and complaints about the latest US-South Korean joint military exercise.
It also was unhappy about the North's failure to allow international observers to verify the dismantling of the Punggye-ri test site, the staging ground for all six of its nuclear tests.
But the North's Kim Kye Gwan countered that Pyongyang's angry statements were "just a backlash in response to harsh words from the US side that has been pushing for a unilateral denuclearization."
Both Pence and Trump's hawkish National Security Advisor John Bolton had raised the specter of Libyan leader Moamer Khadafi, who gave up atomic weapons only to die years later at the hands of US-backed rebels.
Joel Wit, founder of the respected 38 North website which monitors North Korea, said Kim's hand has been strengthened regardless of whether the summit goes ahead because recent weeks have seen him forge connections with Chinese President Xi Jinping, as well as with Russia and South Korea.
"Kim has created sort of a cushion for failure that if the US backs away, the Chinese and Russians will be behind him," Wit said.
"If the United States tries to come back to the table, (Kim) may toughen up his negotiating position feeling that his political position has been strengthened."
But others said Trump's demonstrated willingness to walk away could yet extract further concessions from Pyongyang.
"North Korea will have to propose more detailed plans for denuclearization if it wants to talk in the future," said Go Myong-hyun, an analyst at the Asan Institute of Policy Studies.
LATEST UPDATE: May 26, 2018 - 9:53am
The United States formally concluded that North Korea ordered the murder of Kim Jong-Nam, a half-brother and potential rival to ruler Kim Jong-Un, with the VX nerve agent.
"This public display of contempt for universal norms against chemical weapons use further demonstrates the reckless nature of North Korea and underscores that we cannot afford to tolerate a North Korean WMD program of any kind," US State Department spokeswoman Heather Nauert said.
The finding triggered another layer of US economic sanctions against Pyongyang, just as South Korea reported that the regime is ready for talks to end a nuclear standoff.
South Korea welcomes the renewed prospect of a summit between the United States and North Korea after President Trump cancelled talks with Kim Jong Un only to suggest they might still take place.
"We find it fortunate that the embers of the North Korea-US talks are reignited. We are watching developments carefully," Presidential Blue House spokesman Kim Eui-gyeom says. — AFP
President Donald Trump says the U.S. is "having very productive talks with North Korea" about a summit next month with Kim Jong Un, and says it could happen June 12, the date that was under consideration before Trump abruptly canceled the summit Thursday.
Trump is tweeting that if the summit happens it "will likely remain in Singapore on the same date, June 12th., and, if necessary, will be extended beyond that date."
Trump had said earlier Friday that the potentially historic summit might be getting back on track.
On Thursday, Trump had canceled the summit, citing the North's "tremendous anger and open hostility."
The North Korean government said Friday it is still "willing to give the U.S. time and opportunities" to reconsider talks "at any time." — AP
Japan says it understands President Donald Trump's cancellation of the summit with North Korean leader Kim Jong Un. Top officials there say talks should be held when progress on the North's denuclearization is achieved.
Chief Cabinet Secretary Yoshihide Suga said Friday the summit is useful only when it makes progress on the North's nuclear and missile abandonment and on the issue of the North's abductions of Japanese citizens.
Trump cited hostility in recent remarks from North Korea when he canceled the summit on Thursday.
Japanese Foreign Minister Taro Kono, in Mexico for talks with officials, said Japan expects a summit where North Korea can commit to denuclearize itself. He said Japan will keep cooperating with Washington to achieve it. — AP
North Korea says it is still willing to talk to the United States after President Donald Trump abruptly canceled a summit between the two countries, a decision Pyongyang described as "extremely regrettable."
Trump on Thursday called off the planned June summit with Kim Jong Un, blaming "open hostility" from the North Korean regime.
"Sadly, based on the tremendous anger and open hostility displayed in your most recent statement, I feel it is inappropriate, at this time, to have this long-planned meeting," read Trump's letter to Kim, which was dictated word for word by the US leader, according to a senior White House official. ?— Agence France-Presse
Donald Trump, the US president, cancels his summit with North Korean leader Kim Jong Un slated in Singapore on June 12. In canceling the meeting, Trump cites "tremendous anger and open hostility" in recent statement.

Read more at https://www.philstar.com/headlines/2018/05/26/1818833/trump-says-north-korea-summit-could-still-happen#3CV5SWM7HTzvti0a.99