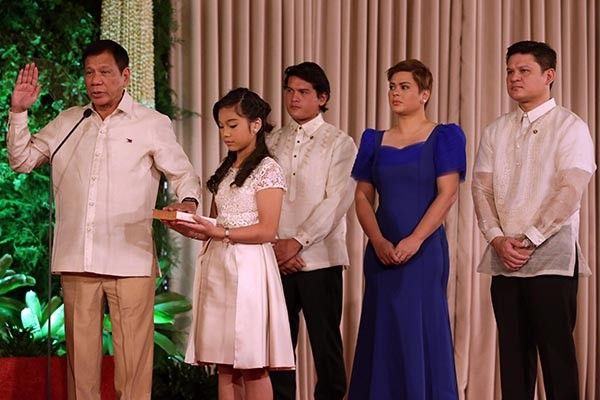 There is no "first family" and the President works in an office, not a "palace." And there are no government "officials," only "workers."
Dispensing with another Malacañang tradition, President Duterte has asked the public not to use "first family" when referring to his immediate relatives, saying the practice is passé and inappropriate in a democracy.
Duterte expressed his dislike for the term as he warned officials not to talk to any of his relatives about government projects.
"I told them not to talk (to my family). I really do not want it… even a whisper. The assistant secretary erred. He mentioned that he was talking to a member of the first family. To be honest, that is passé, bahaw na man ang first family (the term is old hat)," the President said in a speech in Davao City last Thursday.
Apparently, he was referring to former transportation assistant secretary Mark Tolentino who was fired for allegedly talking to the President's sister about a project.
"You do not use it in a democratic country. Do not use first family, first family. There is no such thing as a first family. All Filipinos belong to the first family. And it is in utter bad taste to use it," he stressed.
Aside from this, Duterte was against the use of the word "palace" to refer to Malacañang, the country's seat of power.
"You have never heard me say Malacañan Palace, especially 'palace.' I just say 'my office.' See me at my office. Go to my office," he pointed out.
He also talked of the word 'official,' saying government officials are not above ordinary Filipinos.
"And I do not use the word 'official.' If you have noticed I use 'government worker.' I always say 'mga kasama ko sa gobyerno' (my colleagues in government), government worker. It's not that I am trying to be corny about it. But I think that at this time, this is a democracy. It's a Republican form of government. Everybody is important here," he added.