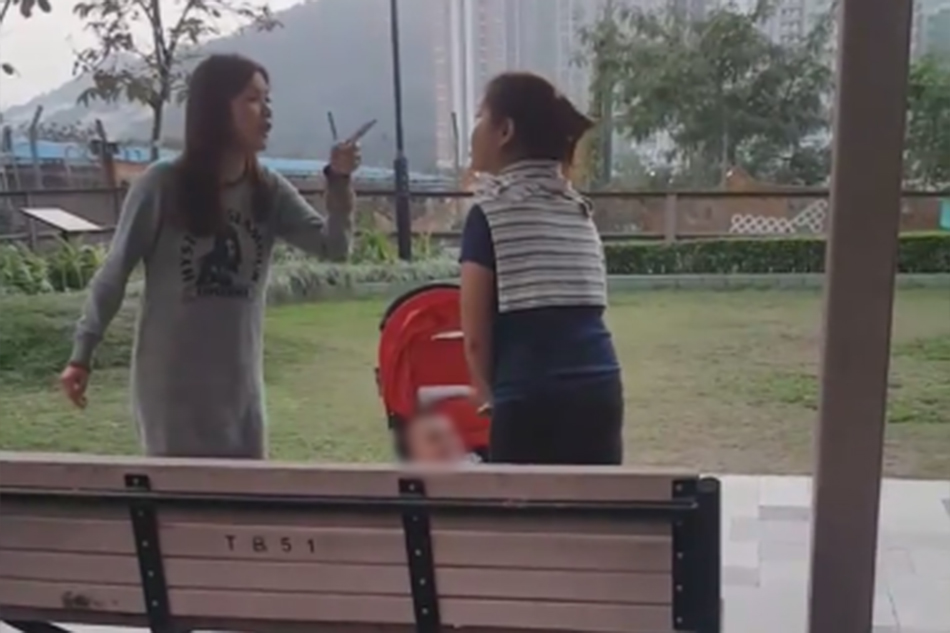 A local woman has been filmed unleashing a torrent of verbal abuse at a domestic helper, shouting at her to "go back to the Philippines" during a five-minute tirade at a park in Hong Kong yesterday.
In two videos shared on Facebook, the woman is seen repeatedly scolding the domestic helper for taking care of a young child in a stroller as well as two dogs at a public park.
She said it was inappropriate to walk dogs and a child at the same time.
"You should shut the f*ck up! You are just a helper, OK?" the woman shouted, as the Filipino responded: "Why should I shut up? Do not put your hand to me!"
"Why you bring the baby together with the dog!" she added, upsetting the child with her tirade.
The woman said the dogs "are always barking" and said one of the dogs even bit her dog.
The Filipino, however, pointed out that she had the dogs under control. "It's just barking. Your dog attacked first," she said.
The local woman then responded: "You are not because your dog is barking at my dog every day!"
She said other people are also complaining about the dogs barking.
In the video, the local woman demanded repeatedly that the domestic helper call her boss.
"Ask your boss come here I tell him the rules. Or you give your number I call your boss, OK? Call your boss now! Ask him to come here now! I'm telling you, are wrong! [When you] take care of the baby you bring your two dogs, and your dogs… always keep barking, you should control your dog," she said.
Though a location is not listed on the video, photos online appear to suggest it happened at a public dog park on the Tseung Kwan O Waterfront.
In the video, the Filipino is seen calling her boss and saying that a woman is complaining about the dogs.
The local woman then said: "You actually should not be a helper, you know. If I'm a boss I would fire you. You have really bad attitude."
The Filipino then gave her boss' number to the local woman, saying that she should call him. "You call him. He asked me to give you the number, OK?"
The woman, however, was incensed.
"You should go back to the Philippines! Bad attitude, bad helper!" she shouted.
The Filipino then responded: "Thank you."
The two videos of the incident have been shared more than 23,000 times and garnered more than 700,000 views.