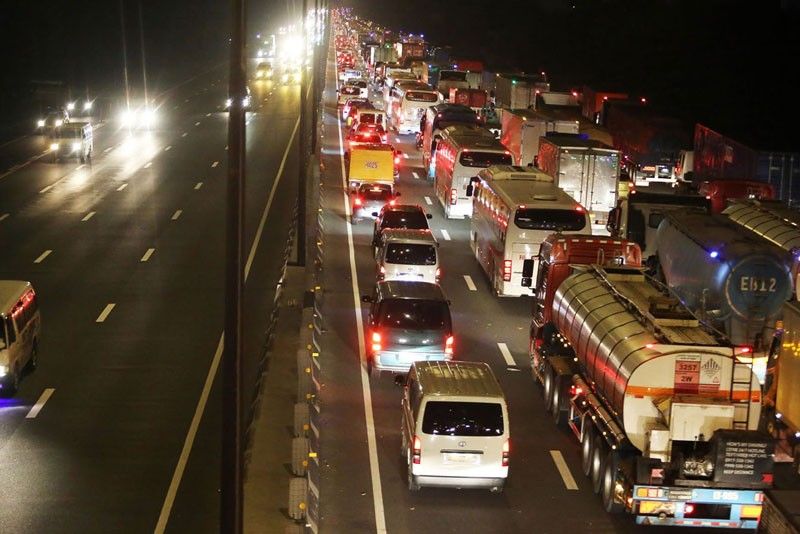 Muntinlupa City is facing the possibility of shutting down as the traffic bottleneck along the South Luzon Expressway's northbound lane has started to affect its roads, Rep. Ruffy Biazon said yesterday.
"The gridlock on northbound SLEX has spilled over to the National Road of Muntinlupa City. This is the main artery of the city," he tweeted.
"We are under threat of shutting down," Biazon added.
SLEX's outermost lane after the Alabang viaduct was closed down at 10 p.m. on Tuesday to give way to the Skyway Extension project.
Netizens stuck in traffic the following day said it took them three hours to travel from Southwoods in Biñan, Laguna to Alabang, Muntinlupa alone.
Traffic was at a standstill as far as Santa Rosa, Laguna even as a stop-and-go traffic scheme was implemented along SLEX's East Service Road.
In an interview with The STAR, Biazon said he has requested a briefing with Skyway management on the issue.
"It's just my observation that since the start of the roadworks last Sept. 24, traffic has been really bad along SLEX, compelling some motorists to seek alternate routes," he said.
Biazon said one of these options is the four-lane National Road, "which is the one and only major artery cutting through the city."
He said the people of Muntinlupa have no choice but to make adjustments in their schedules going to and from work.
"I understand that this is a necessary inconvenience and there are limited choices to alleviate the suffering due to the traffic caused by the construction," Biazon said.
He hopes that "construction will proceed without any delay and hastened if possible, that traffic management be consistent and the project managers monitor the implementation closely."
SMC Tollways president Manny Bonoan told The STAR yesterday that the traffic bottleneck could ease by mid-November once the firm completes the construction of posts and structures for the Skyway Extension project.
"We just need an area for equipment and boring machines, that's why we closed that one lane. Soon after the structures are completed we will remove the machines, then perhaps traffic will become lighter," he said.
Bonoan said the entire five-kilometer ramp will be completed by late next year.
philippine news today philippine news gma philippine daily inquirer breaking news today philippine news headlines latest news philippines philippine news headlines today abs cbn news today philippine star abs-cbn news today abs cbn news live abs cbn news tv patrol abs cbn entertainment philippine news today manila news philippine news gma abscbn news twitter gma news weather balita ngayon sa gma news tagalog gma news and public affairs 24 oras news gma news entertainment gma news tv shows gma news walang pasok gma news tagalog version philippine news today philippine news headlines philippine news gma philippine news headlines today philippine news tagalog latest news philippines philippine daily inquirer breaking news today philippine newspapers