President Rodrigo Duterte has revoked the amnesty granted to opposition senator Antonio Trillanes IV, "effective immediately."
Duterte signed Proclamation No. 572, declaring Trillanes' amnesty "void ab initio."
Proclamation No. 572 was published in the Tuesday, September 4, issue of the Manila Times, under the advertisements section. Justice Secretary Menardo Guevarra confirmed the issuance of the proclamation to Rappler.
"The grant of amnesty to former LTSG Antonio Trillanes IV under Proclamation No. 75 is declared void ab initio because he did not comply with the minimum requirements to qualify under the Amnesty Program," the proclamation states.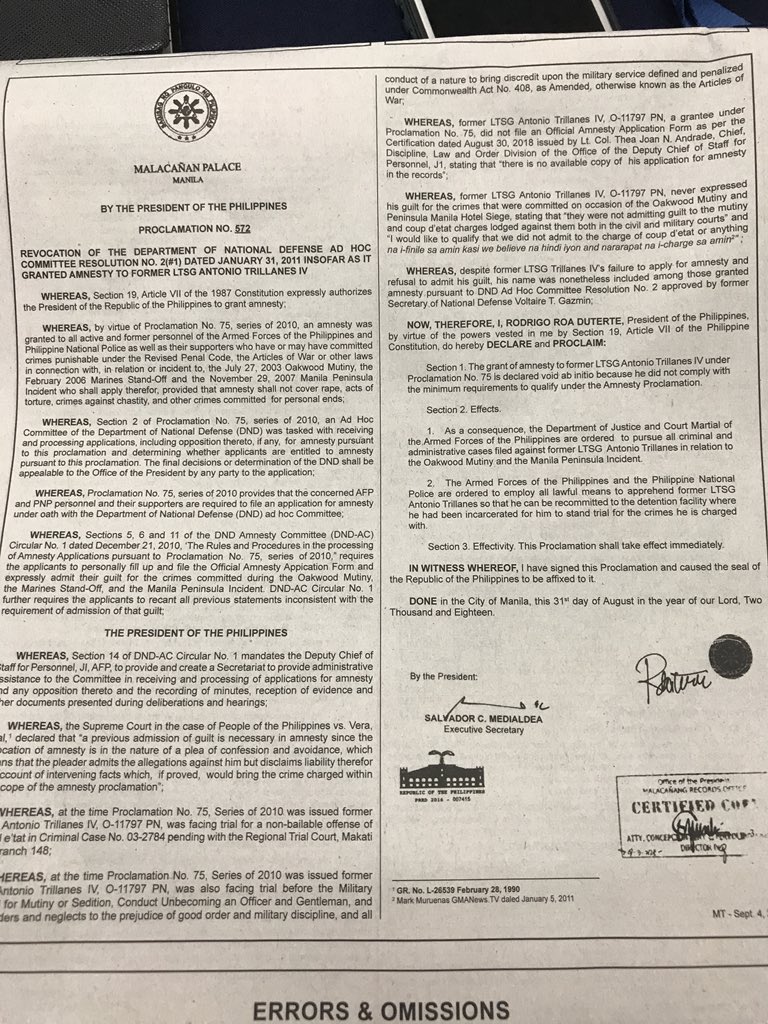 Duterte ordered the Department of Justice and the Armed Forces of the Philippines (AFP) "to pursue all criminal and administrative cases" against Trillanes in relation to the Oakwood mutiny and the Manila Peninsula incident, which happened in 2003 and 2007, respectively.
He also ordered the Philippine National Police (PNP) and the AFP "to employ all lawful means to apprehend" Trillanes so that he can be recommitted to his previous detention facility, the PNP Custodial Center.
Trillanes told reporters on Tuesday that he would not go into hiding and that he was ready to face what he called a "bogus" order.
Your thoughts? Put your comment below.