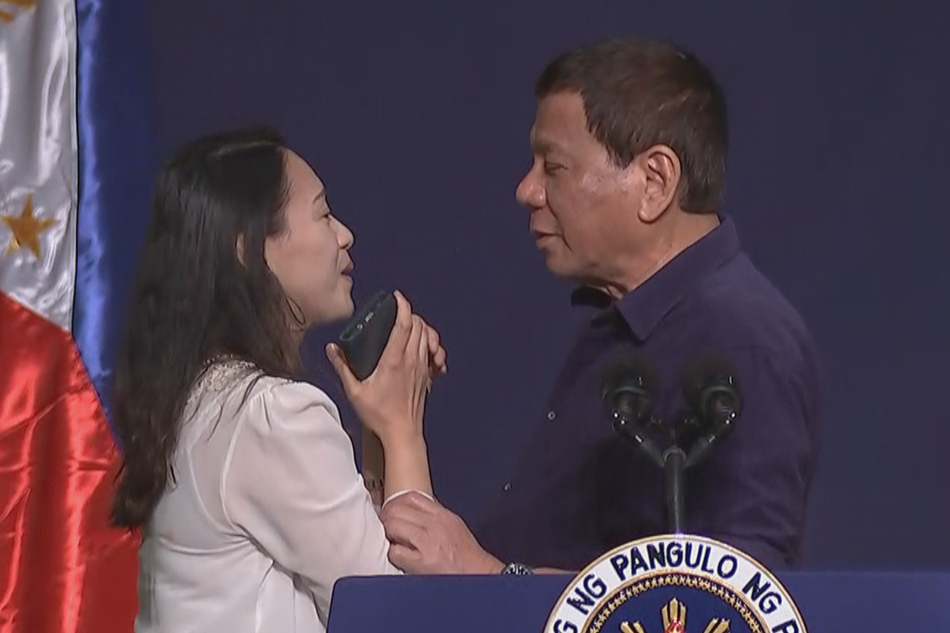 Malacañang on Monday came to the defense of President Rodrigo Duterte after the latter was criticized for
kissing
a married Filipino woman in his meeting with the Filipino community in South Korea.
Presidential Spokesperson Harry Roque said in a television interview that Duterte's kiss was just a "playful act," and showed a "light moment that is very accepted in the culture of Filipinos."
Roque said there should be no malice imputed in the incident since the woman herself, identified as Bea Kim, did not find anything wrong with the President's actions.
"Obviously there is no offended party here. The lady who was kissed has clearly expressed the view that she was honored with the kiss," Roque said.
"She did say there was no malice in it and I don't think we should impute any when the woman herself found no malice in it. It was not an issue to the woman so it was not an issue to the president."
Duterte's move has been met with criticisms online, with some saying what happened was still wrong even if it was consensual.
"A person in power, [especially] a President, who solicits sexual favor--a kiss on the lips--before a hooting throng is acting inappropriately. The misconduct? Misuse of power, the [Office of the President]. It's what sexual harassment is all about. He shouldn't have placed her on the spot," said former Solicitor General Florin Hilbay.
"Liberal feminism makes it seem like having 'consent' is enough. Consent is not given in a vacuum," said Twitter user "Marc #DuterteResign".
"A lot of women would 'consent' to subjugating themselves to their husbands in accordance with their religious beliefs. There's consent, but there's also injustice."
Women's rights group Gabriela, meanwhile, said the kiss was "disgusting theatrics of a misogynist President who feels entitled to demean, humiliate or disrespect women according to his whim."
Gabriela said it was "unfortunate that the woman found it her obligation to publicly defend the act as 'no malice.'"
"It is the President who is duty-bound to explain not only because it was upon his prodding but he is bound, as a public official, by rules of ethics to explain his unruly conduct," Gabriela said.
Former Bayan Muna Rep. Teddy Casino also called the chief executive a "DOM" or a dirty old man, a character portrayed in some movies and television shows.
"Pinagtatawanan natin yan sa pelikula, maraming characters na ganiyan, pero pag presidente ka, dapat di ka komedyante, hindi komedyanteng DOM ang asta," he told reporters.
"Siguro ang audience tinatrato lang yang form of entertainment, nakakatuwa, but ang may pangunahing kasalanan diyan si Pangulong Duterte mismo. Di naman niya dapat ginawa yung ganun," he said.
Former Senator Rene Saguisag urged the President to be a better role model to the youth who might see his actions.
"Kung ginagawa yan, nakikita ng kabataan. They'd think it's okay. To me, that's a very bad example for children and grandchildren. A president should never take the low road."
Activist nun Mother Superior Mary John Mananzan added, neither the woman nor the audience could have stood up to the President, and that's why it was all wrong.
"Halimbawa, umatras siya, sinampal niya. Di ba sakin there is definitely a question of power here. Talagang yung babae, helpless, she cannot really refuse kasi may power relationship yan eh," she said.
"Yung gallery na ganyan, do you expect them to be critical? I don't think so. Do you think anyone of them will dare? To me, a critic, that's not realistic."