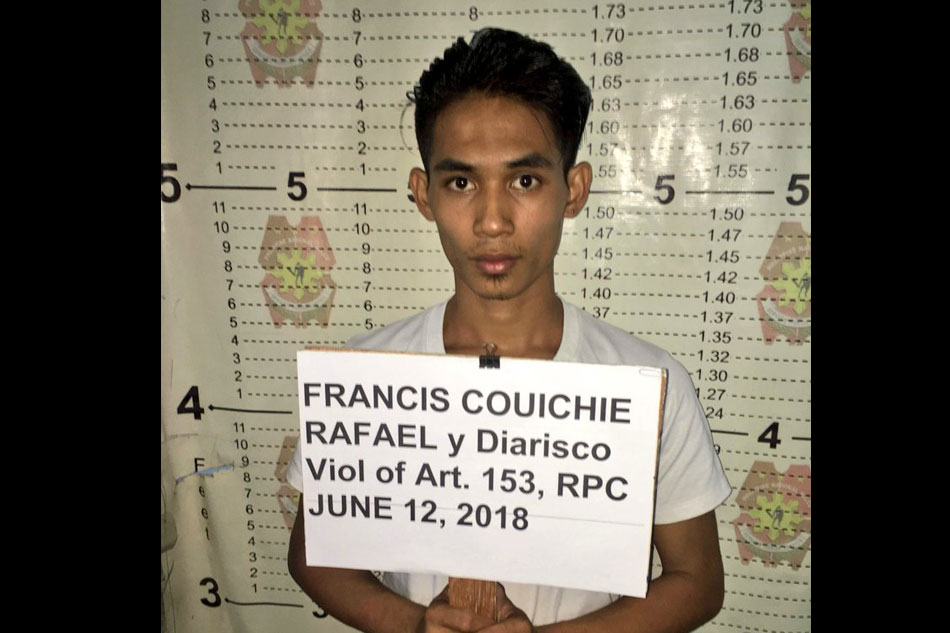 A 20-year old man was arrested on Friday for supposedly causing disturbance when he heckled President Rodrigo Duterte during the Independence Day rites in Kawit, Cavite.
Duterte heckled at his first Independence Day rites
Francis Couichie Rafael "willfully, unlawfully and feloniously disturb(ed), interrupt(ed) public order" when he shouted "Huwad na kalayaan (fake freedom)" during Duterte's speech, said the Calabarzon police in a statement sent to the media.
Authorities confiscated a placard from Rafael, who is now in police custody for investigation and documentation.
Though caught off-guard, Duterte said during the speech that the Constitution "guarantees freedom of the press, freedom of assembly and free expression" as he ordered law enforcers to deal with the hecklers "peacefully and [with] maximum tolerance."
But the Calabarzon police said Rafael violated Article 153 of the Revised Penal Code (tumults and other disturbance of public orders; tumultuous disturbance or interruption liable to cause disturbance). Penalty for this includes a fine of P1,000 and imprisonment of 1 to 6 months.
A post by the Kabataan Partylist Southern Tagalog around 12:17 p.m. Tuesday rallied for Rafael's release.
Duterte had just started speaking at the balcony of the Aguinaldo Shrine in the first Independence Day rites he attended since assuming presidency when he was met with dissent.
Chief Insp. Mark Jayson Gatdula, officer-in-charge of the Kawit Municipal Police Station, said they observed few lone activists scattered in the area.
"Hiwa-hiwalay eh. 'Yung mga intel natin may mga napansin na noong una pero marami pa pala. Mga kabataan kaya hindi pansinin. May mga senyas, 'pag sigaw noong isa, sigawan na," Gatdula said.
(They were scattered. Our intelligence officers noticed a few at first but it turns out, there were several. They were young people, they weren't noticed. They had signals, when one shouted, the rest also did.)
Gatdula said Rafael was with 10 more alleged activists but he was the only one arrested because he supposedly initiated the heckling.
"Mga bata pa nga iba, mga estudyante, siya lang ang nakuha. Siya ang nag-provoke, siya ang nanguna," he said.
(The others were just kids, students, he was the only one caught. He was the one who provoked and led.)
Individuals, identified as members of left-leaning group Bagong Alyansang Makabayan (BAYAN) - Southern Tagalog, shouted: "Duterte traydor (traitor);" "Duterte patalsikin (oust Duterte);" and "Hunyo a-dose, huwad na kalayaan! (June 12, fake freedom)."