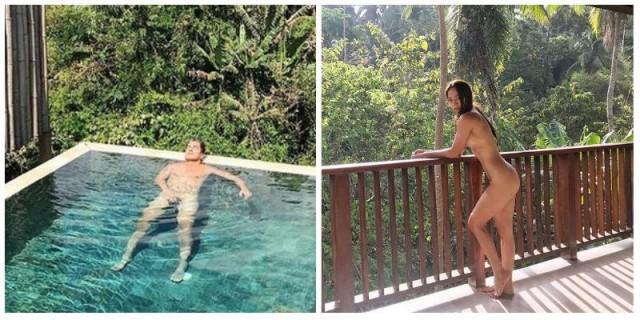 Celebrity couple Aubrey Miles and Troy Montero were trending this week after they posted photos of them bare-skinned while sunbathing during their vacation date in Batangas.
Troy took his partner Aubrey to The Farm at San Benito to celebrate her birthday with a few fun and relaxing activities in their own private pool and villa.
"Taking my Birthday girl to The Farm for a few days of yoga, massage treatments, organic farm-to-table foods and of course some relaxing time in the water. Swipe to see @milesaubrey in our private pool before me, that's a first! @thefarmatsanbenito"
Netizens were wowed when the hot couple heated up Instagram with a series of photos of them getting some Vitamin D, unafraid to bare it all.
Troy's brother KC Montero had reacted to their photos by reposting them and editing it with a dragon blowing fire.
"When you want your brother to stop posting all these uncalled for naked photos... #SanitizeThePoolAndChairs#TamaNa#TroyandAubreyNeedAdultSupervision," KC wrote in the caption.